Making your own wedding rings in one day!
Many couples have made their own wedding rings or commitment rings with us, and it's such a wonderful and memorable thing to do. You will be guided step-by-step through the process and shown the traditional techniques of a jeweller in our fully equipped workshop.
Course fees: £196 per couple, material costs additional.
More about the process…
First of all you need to select a date from our list of Ring /Bangle making workshops. Please allow at least eight weeks between this date and your 'big day' to allow for hallmarking and possible engraving or stone setting. The timescale also depends on your metal choice, as a silver ring can be made and taken home on the same day, whereas a platinum or palladium ring requires a different process and can take even longer. Available dates can be found here, or get in touch to book your place, or alternatively visit us at the shop in Wheathampstead (by appointment) to discuss your exact requirements.
Our guide to choosing your materials
So that we can order the correct size and shape metal wire for your workshop day and offer the most accurate quote, there are four pieces of information you'll need to share with us:
Your Metal choice – you can work in silver; 9ct gold, yellow or white; 18ct gold, yellow or white. Platinum and palladium are hard metals and difficult to work with but if you would like either of these, then you can make your ring in silver on the day and we will have it cast for you.
If you plan to wear two rings together, we recommend you match the metals.
Band shape – We can work in:
D-shape (curve on the outside) wire
Inverted D shape (flat on the outside, curve on inside) wire
Round wire
Square wire
See the diagram below for a visual explanation – if you have something else in mind then let us know and we will do our best  to match it.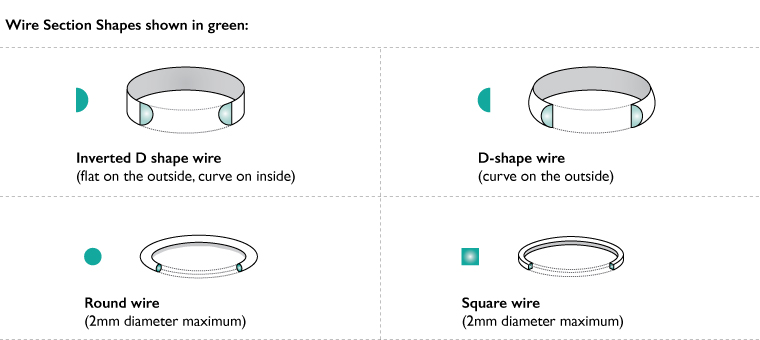 Width – Have think about the width of the band you'd like:
Smaller wire profiles (width by height): 2mm x 1.5mm, 3mm x 2mm
Larger wire profiles (width by height): 4mm x 2mm, 6mm x 2mm
Ring size – if you're not sure of your size but are able to pop into the shop, we have plenty of samples for you to try.
To help you with your choices we're here to advise, so please get in touch.
This really is possible for beginners so don't be apprehensive (especially if it's the other half who wants to do it). We are there beside you every step of the way. You will just love the fact you made your own rings!
We've been on Channel 4's Kirstie's Vintage Home teaching a couple to make their wedding rings (the footage for this is unfortunately no longer available, but we are still featured in the book that accompanied the series: www.hodder.co.uk/Books/detail.page?isbn=9781444730586), as well as on the Rock n Roll Bride's blog, which gives an excellent overview of the day.
You can also watch our You Tube video on wedding ring making here.