Description of One Day Courses
(For dates and information please see the One Day Courses page here >>)
'Ring or Bangle' one day workshop

Start at 9.30am and by 3.30pm you will have made your very own silver ring or silver bangle.
Using traditional tools and sitting at a jeweller's bench, you will learn to pierce out silver with a fine saw. You will anneal (heat and soften) your silver (or in some cases gold if you are making your wedding rings) with a blow torch and form it into a ring, using jeweller's hammers and a mandrel.
The tricky bit is soldering the ring together – the energetic bit is cleaning and refining and (for the perfectionists amongst you) the satisfying bit is the final polishing!
 This is a one-off chance to make your own ring, with step by step direction from Rachel Jeffrey.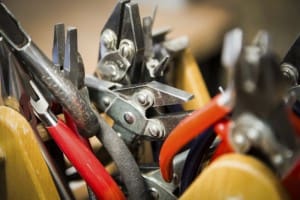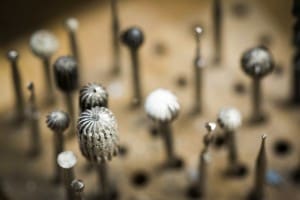 'Pendant, Earring or Cufflink' one day workshop

Start at 9.30am and by 3.30pm you will have made your own pair of earrings, cufflinks or a pendant.
In the morning you will sample four different silversmithing processes:
The day begins with a blast of heat at the hearth using the blow torch to melt and fuse silver.
Detailed work is then done sitting at a jeweller's bench, piercing out the silver with a fine saw.
The third technique is texturing the silver with hammers and punches – noisy and fun…
…but leave some energy for the fourth process, using the rolling mill!
After lunch, you will begin your piece using one or more of your newly learnt skills, under the close supervision of Rachel Jeffrey. Finally, step by step, links are soldered and cufflinks and ear wires are positioned so that you end up with your own unique piece of silver jewellery.
We hope you enjoy these workshops, have fun and enjoy wearing your own bespoke piece of jewellery!

 On both days we allocate about half an hour for lunch. There are various place to find something to eat in the village:
Loafing Bbakery is a few metres from the workshop – we're in there daily for coffee and great sandwiches!
Brimarks the butcher (a few doors down) have sliced meats, cheese, mini pies and pasties.
Charlie's Café (again a few doors down) sells light dishes & sandwiches (and their ice cream bicycle can be spotted on sunny days).
Tesco (over the road) have a range of sandwiches and snacks…
After your course you might like a few celebratory drinks at The Bull (a Miller & Carter Steakhouse, renowned for its steak) right opposite the shop, or The Wicked Lady on the approach to the village!