Engagement Rings
Choosing the right engagement ring is an incredibly personal experience. Here at Rachel Jeffrey Contemporary Jewellery we genuinely care about and enjoy the experience of working with our customers at this exciting time. We appreciate the sensitivity and the commitment this signifies. At heart we are all romantics.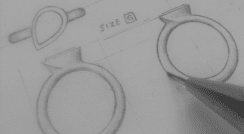 Design the ring in collaboration with your partner, or give Rachel a brief.
If surprise is a key element, why not present the diamond first and then come in to design the ring together.
We pride ourselves on our stone knowledge and can arrange a selection of cuts, clarities, and colours for you to choose from to fit any budget.
Alternatively, browse our ready to wear engagement rings, all hand made by Rachel Jeffrey Contemporary Jewellery.  Often these can be adapted to personalise your choice.
Rachel is a very experienced Goldsmith and is always happy to discuss your requirements. To book an appointment, without obligation, please contact us on 01582 833800.
♥ As a thank you to those who chose engagement rings designed by Rachel we'd like to offer you a complimentary engagement photoshoot with our friends at Ian Scott Photography, complete with a framed photograph of your favourite image from the shoot. Their photographs are really lovely, take a look at their work here www.ianscottphotography.co.uk