MASTER CLASS: Leather & Silver (2023)
2023 dates TBA
9.30am – 3.00pm
£190.00 plus materials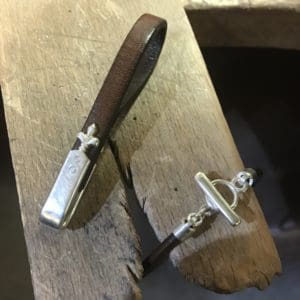 Course aims:

This two day course explores how to pair two materials that couldn't be more different to one another and covers techniques such as riveting and fabrication. Each student will come away from the course having made a leather bracelet with silver clasp and a leather key fob. Additionally, other techniques and processes, such as belt buckles, silver beads and adjustable knots will be demonstrated
Learning outcomes:

Day 1
9:30am: Begin by showing students leather bits and the finished key fob, talk through process
9:45am: Students bend metal to size, pierce a design and drill in prep for rivet.
10:45am: Demonstrate riveting.
11:00am: Students rivet their key fobs
12:00pm: Lunch
12:45pm: Demonstrate adjustable knots. Students finish key fobs
1:30pm: Demonstrate several clasps for bracelets, each student will choose one to produce.
1:45pm: Students begin production on clasps for bracelets
2:30pm: Demonstrate riveting on a rounded surface, Demonstrate glueing. Students continue work on bracelets.
3:00pm: End
Day 2
9:30am: Recap of riveting and gluing demo. Students get to work.
10:30am: Students finish bracelets and polish.
11:00am: Demonstrate belt buckle.
11:15am: Students begin work on buckle. Students may select another clasp if not interested in buckle.
12:00pm: Lunch
12:45pm: Continue belt buckle.
1:45pm: Demonstrate leather Glue
2:30pm: Assemble buckle to belt.
3:00pm: End
Your tutor:
TBA.
Details:
A maximum of eight places are available on this course, with a minimum of six participants required for the course to run. Full payment is required to secure a place. We can take card payments over the phone – please note the cost of the day is not refundable. Once payment is received we will send an email confirming your place on the course – just let us know if you would like a place by calling 01582 833800.