MASTER CLASS: Keum Boo (2023)
2023 Dates TBA
9:30am – 3.00pm
£190.00 plus materials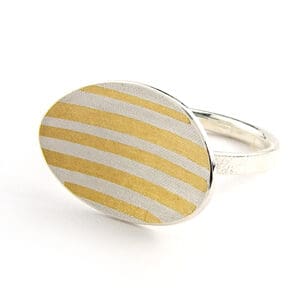 Course aims:
Keum-Boo, literally meaning 'attached gold', is an ancient Korean technique of heat-bonding thin, 24ct yellow gold foil to silver. As the gold is pure it attaches well through pressure and heat to pure or fine silver. When using Sterling silver a thin layer of fine silver is first brought to the surface to facilitate this process.
Learning outcomes:
Keum-Boo lends itself very well to embellishing pieces of jewellery with a special gold highlight and this two-day course will provide step-by-step instructions on how to do this technique.
Level:
The course is aimed at intermediate level students.
Your tutor:
Hendrike Barz-Meltzer: Hendrike is a contemporary jewellery designer and maker who works in a variety of techniques and materials, such as precious metals, recycled plastic or silk, which she makes into delicate Kumihimo braids that are incorporated in her work.
Material and technical considerations are guided by environmental and ethical thinking to produce jewellery that is not only beautiful but has also been created responsibly.
Hendrike's work is exhibited in a number of exhibitions and galleries, such Contemporary Applied Arts, London and she partakes in fairs such as MADE London.
Her interest in ethical concepts has greatly influenced her creative work, believing firmly in the idea of 'giving back' to society and passing on knowledge. This is evidenced by her various teaching engagements and her commitment to producing responsible jewellery.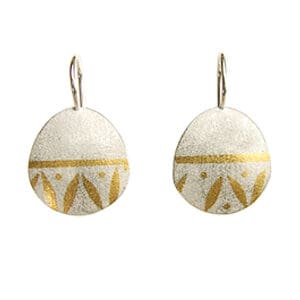 Details:
The general outline of the course over two days will be:
Day 1: Introduction and overview of all the necessary tools and equipment, as well as a demonstration of the technique. You will then make a number of flat test pieces which you can later incorporate into pieces of jewellery.
Day 2: The second day of this course will focus on applying the technique to more challenging shapes and present a number of ways to enhance the surface finish. You can also bring existing pieces to which you may want to add Keum-Boo (please note that the pieces should be finished, and that stones should be set after the Keum-Boo process has been completed).
During the second day students will also be introduced to riveting, a suitable technique that can be used in combination with Keum-Boo.
General:­­
A maximum of eight places are available on this course, with a minimum of six participants required for the course to run. Full payment is required to secure a place. We can take card payments over the phone – please note the cost of the day is not refundable. Once payment is received we will send an email confirming your place on the course – just let us know if you would like a place by calling 01582 833800.
Return to the Master Class main page >>
All photos and work shown on this page are by Hendrike Barz-Meltzer.