Jewellery Party For Children
Looking for an unusual, original and entertaining party for your child… how about a jewellery making party?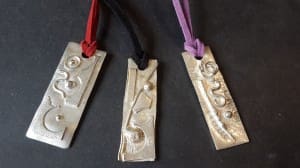 Under the watchful eye of Rachel, children learn and participate in basic silversmithing techniques. By the end of the party each child will have been able to make a beautiful unique silver pendant (or keyring) which they will take away with them (so no need for a party bag!).
Parties last approximately 90 minutes and are aimed at 9–13 year olds.
Cost is £150.00 for the workshop fee, and £25.00 per child – parties are for a minimum of four, and maximum of six, children.