Jewellery Party For Children
Unfortunately, due to the structural changes we have had to make to our workshop to accommodate social distancing, we regret that we are temporarily unable to offer these parties. We hope to re-start them as soon as we have returned our workshop to its normal arrangement, so please register your interest with us and we will add you to  our waiting list of places (May 2022).
Looking for an unusual, original and entertaining party for your child… how about a jewellery making party?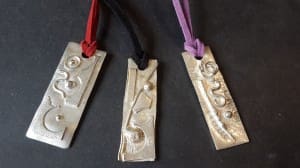 Under the watchful eye of Rachel, children learn and participate in basic silversmithing techniques. By the end of the party each child will have been able to make a beautiful unique silver pendant (or keyring) which they will take away with them (so no need for a party bag!).
Parties last approximately 90 minutes and are aimed at 9 – 13 year olds.
Cost is £150.00 for the workshop fee, and £25.00 per child – parties are for a minimum of four, and maximum of six, children.