MASTER CLASS: Spoon Making (2023) 

2023 dates TBA
9.30am – 3.00pm
£190 plus materials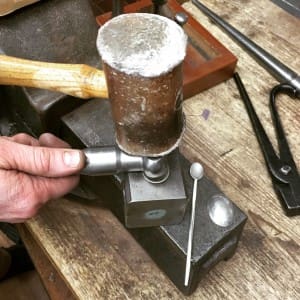 Course aims:
The Spoon Making Master Class is a two day course in which students will produce a silver spoon. Students will learn traditional silversmithing techniques, and will walk away with technical knowledge as well as a shiny new piece. Perfect for a christening present, Christmas, wedding or anniversary present. A significant piece for a significant occasion.
Learn how to dish and form metal into a spoon
Learn how to anneal and solder
Learn how to finish silver to a high polish
Learning outcomes:

Understanding of silver forming techniques
Knowledge of spoon production process
Confidence to work with production tools unassisted
Level:
The course is aimed at beginners.
Your tutor:

Hendrike Barz-Meltzer: Hendrike is a contemporary jewellery designer and maker who works in a variety of techniques and materials, such as precious metals, recycled plastic or silk, which she makes into delicate Kumihimo braids that are incorporated in her work.
Material and technical considerations are guided by environmental and ethical thinking to produce jewellery that is not only beautiful but has also been created responsibly.
Hendrike's work is exhibited in a number of exhibitions and galleries, such Contemporary Applied Arts, London and she partakes in fairs such as MADE London.
Her interest in ethical concepts has greatly influenced her creative work, believing firmly in the idea of 'giving back' to society and passing on knowledge. This is evidenced by her various teaching engagements and her commitment to producing responsible jewellery.
Details:
The course will run over three days, 9.30am – 3.00pm
Day 1
Introduction and demonstration
Dishing the spoon
Forming the handle
Fitting dish to handle
Day 2
Soldering the dish to handle
Filing and texturing
Buffing and polishing
General:­­
A maximum of eight places are available on this course, with a minimum of six participants required for the course to run. Full Payment is required to secure a place. We can take card payments over the phone – please note the cost of the day is not refundable. Silver is available on the day and costs extra. Silver for a spoon can cost anywhere from £100.00 to £150.00 depending on size and weight. Once payment is received we will send an email confirming your place on the course – just let us know if you would like a place by calling 01582 833800.
Return to the Master Class main page >>