MASTER CLASS:  Engraving (2023)
2023 dates TBA
9.30am – 3.00pm
£190.00 plus materials (material costs of approximately £28.00

paid directly to your tutor on first day of course)
Students also have the option to buy their own graver and scriber: approx. £10.00 each • Cost of copper plates approx. £8.00 •  Students may also bring their own silver or copper to engrave on if they wish.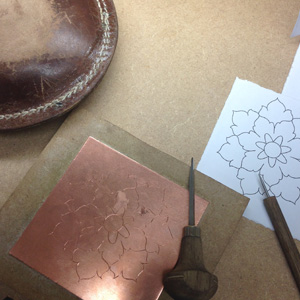 Course aims:
Learn how to compose, layout and transfer a design

Learn how to make an engraving tool and scriber
Learn basic engraving – curved and straight lines
Engrave your own design onto a copper plate
Overview of sharpening and care of tools
Learning outcomes:

Understanding of how engraving tools work
Knowledge of how to set up for engraving on your own
Be able to engrave basic cuts and designs
Your tutor:

TBA
Details:
The general outline of the course over two days will be:
Introduction, setup and demonstrations
Practice plate – learning how to cut a straight / curved line
Learning how to transfer a design
Engrave own design (students can choose from a supplied selection or bring their own)
A maximum of eight places are available on this course, with a minimum of six participants required for the course to run. Full payment is required to secure a place. We can take card payments over the phone – please note the cost of the day is not refundable. Once payment is received we will send an email confirming your place on the course.