The Shop

  Visit our Shop & Workshop board on Pinterest
Once a working water mill overlooking the River Lea (and now a listed building) the shop is design-led, cosy and bursting with jewellery. The shop is bubbling with new concepts, and there is a 'wish book' for you to note down what you would like and send in who you would like to buy it! Alternatively we have 'wish cards' that you can take away and conveniently leave out to be "picked up"!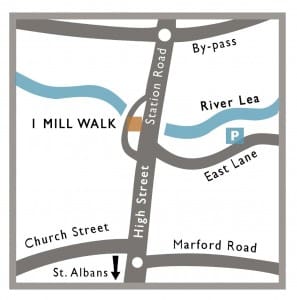 There is also a fantastic twist on the gift token; we have silver and gold nuggets wrapped up in a gossamer drawstring bag for when you are spoilt for choice.
We also have a leather chair with magazines to read, for those members of your party that may not match your own enthusiasm to shopping!
We are situated in the beautiful village of Wheathampstead, Hertfordshire, very close to the Bedfordshire border.
If you can't make it to the store, you can shop online. We are now selling selected items from here, or you can call us and order any item over the phone – 01582 833800. We can take payments over the phone and post the items out to you.
The Workshop
Our traditional, well-equipped workshop, sits over the River Lea – the majority of the pieces we sell in the shop are made here.
In addition, join our jewellery school where you can learn the skills of a silversmith and jeweller.  We offer a variety of courses all of which take place in our workshop. All tutors are experienced, professional silversmiths.