Making your own wedding rings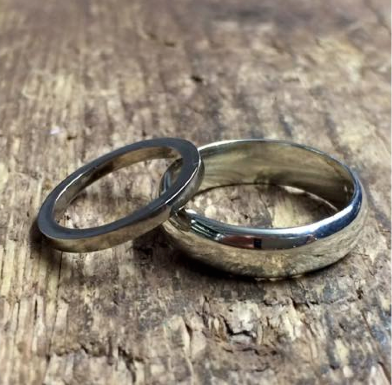 Whether it's decorating the table centrepieces or making your own wedding favours, the DIY wedding craze is in full swing. Pinterest and other social media sites are awash with ideas on how to go about creating and personalising anything from the wedding venue to the cake. It's a chance for both families to get involved and make their contribution, however small!
But during the busy build up, there is part of the wedding planning that a couple can do together – make your own wedding rings! Is there anything more romantic than crafting a piece of jewellery for each other that will be worn as a symbol of your love forever? Not only that, but a day spent learning something new and creating a shared memory is so rewarding and also FUN!!
How would you go about this?
First of all, make sure you leave plenty of time before your big day. The ring workshop is a one day course but you'll need to allow a couple of weeks to get your rings hallmarked. If your looking to engrave or have stones set into the band then allow 6 weeks before your big day.
Even if you're not sure which metal to choose or style to go for, do get in touch. We can book you an appointment to talk about the choices and you can try on plenty of samples to help you.
If you're not local to Wheathampstead, don't worry. We can consult with you over the phone and via email. Why not make a weekend of it? We can recommend plenty of great overnight places to stay in the area.
Metal choice and style
In our experience, the best style of ring to be completed in a day is a plain wedding band. The simple, classic style of the D shape band sits well with all engagement rings, whether traditional or contemporary in design and can be achieved by complete novices to jewellery making.
Never worn a ring before chaps? Don't worry because we have plenty of samples in different widths for you to try on and we'll help you select the best one for you. To narrow the selection, consider your style, comfort and daily work/lifestyle.
You can choose from silver, yellow or white gold, platinum or palladium. We do advise that ladies match the metal of their wedding ring to that of their engagement ring as this gives the best wear over time.
If your choice is platinum or palladium, you'll need to make your ring in silver first and we will then cast it for you. This is because both platinum and are very difficult metals to work with and aren't suitable for beginners. We'd need to build 4 more weeks into the making time but don't worry as this will be explained when you book.
Personlise with engraving
Why not add a meaningful touch and get your ring engraved? A special message, date, or initial inscribed on the inside of the ring can be a little secret just between the two of you.
For enquiries or to book an appointment, please give us a call on 01582 833800 or email info@racheljeffrey.com Available workshop dates can be viewed here.