Valuation Day with Steve Jordan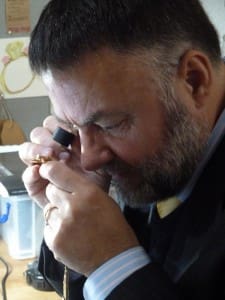 We welcomed Steven Jordan back to the shop on Thursday 28th January 2015.  
Steven is a qualified Gemmologist, diamond grader and jewellery historian. He recently appeared as jewellery expert on a BBC documentary and received the accolade of 'Valuer of the Year' from The National Association of Goldsmiths' Institute of Registered Valuers.
This is the third time he has come out to us.  We loving having him visit – his knowledge and anecdotes are so impressive and we always get to see some wonderful pieces.  This time we saw some stunning brooches from the 1920s in particular – one with sapphires and diamonds, and another with fleur de lys detail.
Booking an appointment with Steven means you discover how much your jewellery, watch, or silverware item is worth for the rate of £60 per item.  Your curiosity can be satisfied and you can ensure that your piece has accurate insurance cover. Jewellers / valuers generally charge a standard fee of 10% of whatever the item is worth, so if you suspect your piece is of good value it really is a great discount.
With each appointment Steven – a highly experienced, independently regulated valuer gives a comprehensive portfolio with a fully detailed valuation and description.
This includes:
a detailed description of each item including digital image
proof of ownership
free registration to the secure e-register™ database (ensuring that items are properly protected in the event of loss or theft)
Contact us to express interest in our next Valuation Day.