Valentine's Day gift guide
There are many traditions surround February 14th, some romantic, some celebrating the beginnings of Spring  –  In Europe, Saint Valentine's Keys are given to lovers "as a romantic symbol and an invitation to unlock the giver's heart" ….. but if ever there was a time to treat your loved one to something special and unexpected then this is it….and don't forget, 2016 is a Leap Year, so guys, watch out for those proposals!!
Here we've put together a few gift ideas sure to light up anyones face on February 14th.  You may not see the exact piece you're looking for on this page but if something catches your eye then click through to the page on our web for more variants. 
The LOVE PILL collection
Our remedy for love – a faceted silver surface twinkling in the light with the contrasting glow of a gold heart! Each piece makes a contemporary statement on it's own or together they coordinate nicely for the person who rocks your world….
 Love Pill Earrings                                               Love Pill Ring
Love Pill Pendant                                               Love Pill bangle 
The BLUSHING HEART collection
A romantic collection featuring a pendant, ring, bangle and earring. With a solid silver heart you can choose between satin or shiny finish and even add diamonds for an extra sparkle!
Blushing Heart Pendant with Diamonds       Blushing Heart Ring Sating Finish  
Blushing Heart Bangle                                      Blushing Heat Sating Earrings
Blushing Heart Earrings Shiny                      Blushing Heart Pendant
Charms, flowers and the key to her heart…
Love comes in all shapes, so we've put together some special pieces which we think would make memorable Valentine gifts….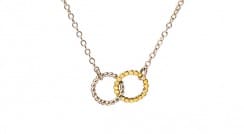 – an invitation to unlock the givers heart         –  Interlocking circles of  gold and silver                                           
 Daisy Studs                                                          Tundra silver and gold studs
– A classic                                                              – For something a little different…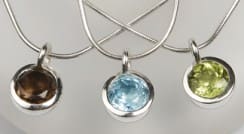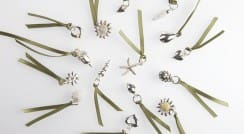 – Choose her birthstone or simply her          – All of our pendants make beautiful charms 
favourite colour                                                                                               
 18ct Gold Rose Pendant                   18ct Gold Anther Crescent
 – Delicate and romantic                     – Contemporary symbol of balance
Rings and bangles can be personalised with your own special message. Simply email us at info@racheljeffrey.com or call us on 01582 833800 for details or add your wording to your 'Order Notes' before checking out.
All pieces are presented in our RJ monogrammed gift box and bag and can also be wrapped and finished with a ribbon on request-  at no extra cost!