The Solar Eclipse – it's a ring thing!
Last weeks' solar eclipse got so many of us excited. It's a once in a lifetime event and so rare that it may not happen again for hundreds of years!
However, it's the stunning visual effects created by the moon as it blocks out the sun, which really interests us.
One of these effects is known as Baileys Beads. The Bailey's Beads effect is a feature of total solar eclipses. As the moon "grazes" by the Sun during a solar eclipse, the rugged lunar limb topography allows beads of sunlight to shine through in some places, and not in others. The name is in honor of Francis Baily who first provided an exact explanation of the phenomenon in 1836.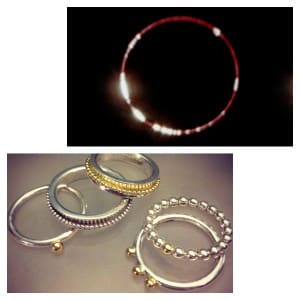 Our stacking rings in silver and 18ct yellow gold really remind us of this phenomena. Pictured here are 'Hundreds and Thousands', 'Pom Pom' and the silver 'Gold Ball' rings which all stack beautifully together.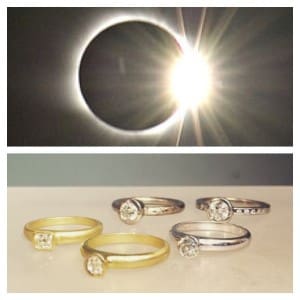 The Diamond Ring Effect of the eclipse is also spectacular and seen when only one bead is left; a shining diamond set in a bright ring around the lunar silhouette. Not only does it look like a diamond ring but the rarity of this event reflects that of the most perfectly clear diamond.
We think you'll agree that this diamond ring selection, designed by Rachel and in 18ct white and yellow gold, sparkles like an eclipse! Check out these designs here on our website.