Rachel and Joffa in Woman & Home
Rachel and her labradoodle are stars of the Christmas issue of Woman & Home magazine! 
The national women's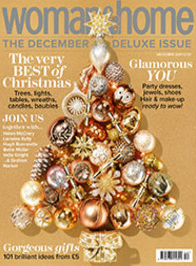 monthly magazine was searching for participants for a feature on how Christmas would be different this year.  Rachel approached the journalist herself.  "It occurred to me that the arrival of my dog Joffa has had such a positive impact on my life already, that his presence this Christmas will make it an entirely new experience for me."   Rachel had always wanted a dog but put off taking the step to find a puppy or go to a rehoming center.  Finding time to look after a new four-legged friend would be a balancing act with the busy shop and jewellery school.     
But after visiting a friend who had a litter of labradoodles, Rachel felt the timing was perfect.  She took the first born home as soon as he was ready and has not looked back. That Joffa is as happy being in the shop or workshop, as he is starring in a glossy magazine shoot makes them perfect companions!
 Rachel says "the whole experience was wonderful. The photoshoot was glamorous, the magazine team were really fun, and I have a lovely photograph to mark this memorable year with."