Why do I need to get my jewellery valued?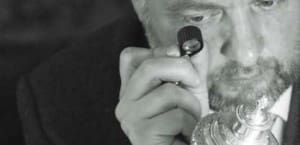 Valuation for insurance replacement
Insurance companies insist in valuables being valued by a reputable valuer, however many people do not have their jewellery insured at the correct value – this is vital if you ever need to make a claim to your insurance company.
Valuation for private sale
Valuation for probate
Valuation for loan security
Family division and divorce
Valuation Day at Rachel Jeffrey Jewellery:
We hold valuations days here at the shop every 3 months or so, with the highly experienced, independently-regulated valuer Steven Jordan.
Steven Jordan is one of UK's most experienced and qualified jewellery, silver and watches valuers, with over 40 years experience.For the discounted rate of £50 discover how much your jewellery, watch, or silverware item is worth – satisfy your curiosity and ensure your piece has accurate insurance cover.
Simply call 01582 833800 or email info@racheljeffrey.toasthost.me to book an appointment. 
What can I expect from the meeting?
Your valuation is carried out on our premises (no possibility of loss in transit) in a friendly and relaxed atmosphere.
A typical way for a valuer to charge is by percentage.  We looked to avoid this to offer transparency.  (Where a percentage is charged the customer doesn't know what charge it is until the valuation is done.  Also, if disputed at court then a perceived bias may be implied. £50 per item is a transparent fee)
Valuations are produced using the GuildPro valuation software with full item detail and images. A limited view of the valuation is uploaded to the secure eRegister database. No client information is uploaded. The eRegister information can be viewed by insurers, with client permission.The Police also have access to the database enabling item return to original owner in the case of recovery after loss or theft.
Steven can offer advice on repairs – which can then be carried out on premises.