5 things to consider when choosing an engagement ring!
Selecting, researching or designing an engagement ring for a surprise proposal needn't be the head-spinning process it's cracked up to be.  Whether you're considering a bespoke, commissioned ring or looking to find the perfect piece glinting at you in the corner of a shop window, then fear not because before you start shopping, we've got a few little hints and tips you may like to consider whilst making your decision.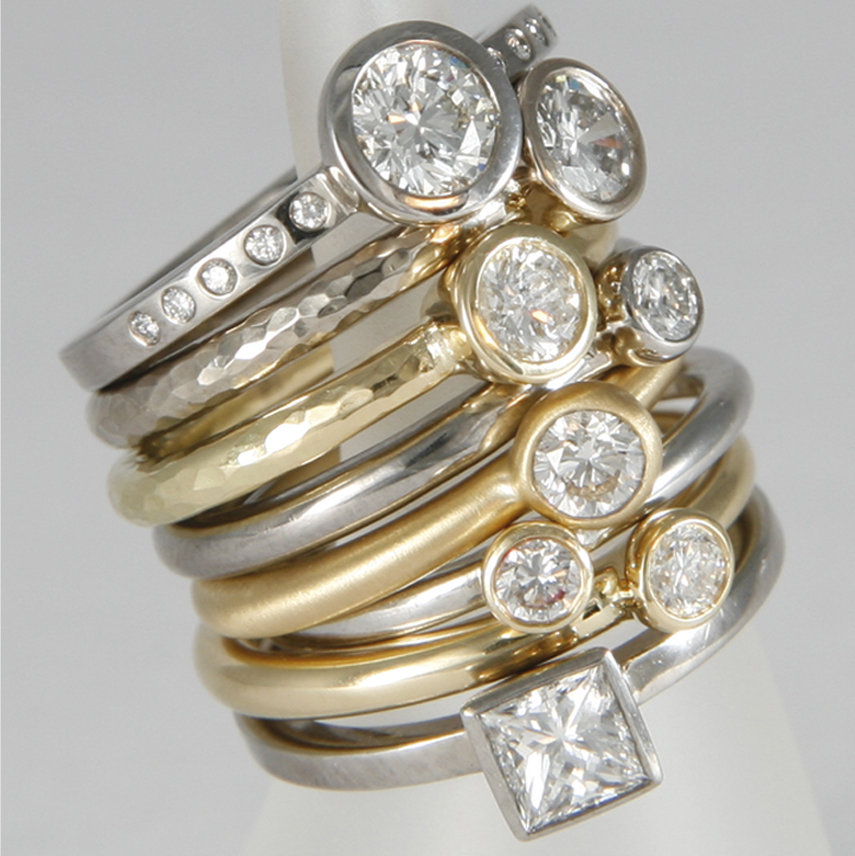 First things first:
Your budget
This is a tricky one but try to have an amount in mind before you start your search. This will greatly help when you're faced with so many choices of metals and stones. Ignore old rules about how much you should spend and stick with an amount you're comfortable with.
The Metal choices:
Does your partner wear yellow or white metal jewellery?
9ct or 18ct yellow gold – a warm and classic choice
9ct or 18ct white gold – fairly contemporary and usually plated with rhodium to make it whiter
Platinum – more durable than gold and naturally hypoallergenic
Palladium – new to the jewellery industry and similar to platinum
The style of the ring
Here are some of the key questions we would ask about your partners style:
Do they like chunky or delicate jewellery? Modern or vintage?
Lots of tiny stones or a single stone?
A diamond or a coloured stone?
You probably know the answer to a lot of these already but if not, you can always ask a friend or check out her jewellery box!
The Stone
The diamond -The 4 C's are used to measure the character and quality of the stone – cut, colour, clarity and carot. We pride ourselves on our knowledge of stones and can provide you with a selection of cuts, colours and clarities to choose from.
If they like a coloured stone, do they prefer blue? red? pink? green? Something out of the ordinary?
The setting
Once you've decided on the stone, consider the type of setting (metal framework in which the stone is mounted). This can really set the style of the ring. Whether you go for a clean, modern rub over setting or a traditional claw set. The thing to think about here is how they are going to wear their ring and also what they do for a living. Are they likely to wear the ring for active pursuits? practical jobs? Do they need a low profile style with a secure secure setting or would a delicate setting be more appropriate?
Take a look at our full ring collection here for more inspiration. These styles can be adapted to really personlise your choice.
 Bespoke
Whether you have a specific style in mind or starting from scratch, we are happy to work with you in designing your unique ring. You may even want to incorporate inherited stones for a truly personal piece.
Please contact us to book an appointment, without obligation, to discuss your requirements. We aim to give you as much guidance as you need.