Four Lesson Short Courses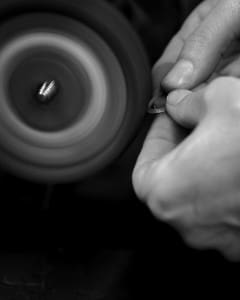 A "mini" term of jewellery workshops of two different types: either for complete beginners or for intermediate / returning students who need a bit more time in the workshop to complete existing projects.
The beginner course covers two projects – either a Ring or Bangle in the first two lessons, then Pendant, Earrings or Cufflinks in lessons three and four.
Short Courses Winter 2018 (TERM 5):
Monday Mornings, 9.30am – 12.00pm (existing students only):
26th Nov / 3rd, 10th, 17th Dec 2018
Wednesday Evenings, 7.00pm – 9.30pm (existing students only):
28th Nov & 5th Dec 2018 – a special two week option (£50.00 only)
Thursday Mornings, 9.30am – 12.00pm (existing students only):
29th Nov / 6th, 13th, 20th Dec 2018
Venue
The course take place at Rachel Jeffrey's workshop at 2a Mill Walk, Wheathampstead, AL4 8DT, next door to the Rachel Jeffrey shop.
Level
Beginner & Intermediate
Course Fees
One four week course £100.00 (all tools are provided, however material costs are additional).
Please note places can only be secured once payment has been received – payment can be made by card over the phone, by visiting the shop, or via BACS.