Four Lesson Short Courses, 2019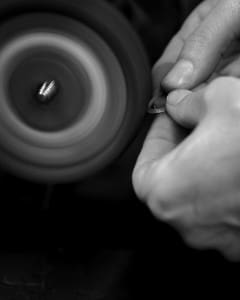 A "mini" term of  mixed-ability jewellery workshops for both complete beginners and for intermediate / returning students who need a bit more time in the workshop to complete existing projects.
The beginner course will cover two projects – either a Ring or Bangle in the first two lessons, then Pendant, Earrings or Cufflinks in lessons three and four.
Existing students are free to continue their own chosen projects or field of study.
Wednesday Evening: 7.00pm – 9:30pm: starting 27th November
(November 27th • December 4th • December 11th • December 18th)
Thursday Morning: 9:30am – 12 noon: starting 28th November
(November 28th • December 5th • December 12th • December 19th)
Venue
The course take place at Rachel Jeffrey's workshop at 2a Mill Walk, Wheathampstead, AL4 8DT (adjacent to the Rachel Jeffrey shop)
Level
Beginner & Intermediate
Course Fees
One four week course £150.00 (all tools are provided, however material costs are additional)
Please note places can only be secured once payment has been received – payment can be made by card over the phone, by visiting the shop, or via BACS