MASTER CLASS: Wax Casting (2021)

2021 dates TBA
Two days: 9.30am–3.00pm.
£190.00 plus silver costs (estimated at £20.00–£80.00 dependent on weight).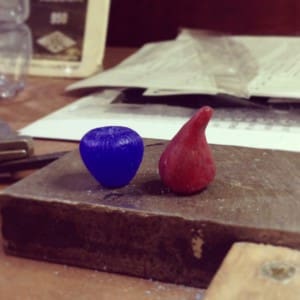 Course aims:
Wax carving is a really interesting and effective method of making silver jewellery. The process involves carving a piece of wax into the desired shape.  Once cast this becomes a silver copy of the shape you carved, ready for you to sand and polish.  The emphasis on day one of the course is on wax modelling for lost wax casting. Wax carving and wax building is accompanied with a detailed description of the lost wax process and multiple casting methods.
We cover cuttlefish casting for direct casting and drop casting on day two of the course for fun, experimental, instant results.
Photo shows two different types of wax – carving wax and moulding wax. You will experiment with both types over the weekend.
Learning outcomes:
Begin to realise your jewellery designs in three dimensions without the waste of metal produced in fabrication. Understand the ease related to batch production and the advantage of being able to produce identical units for a complicated linkage. Very intricate, identical pieces can easily and quickly be made.
Your tutor:
Rachel Jeffrey
General:­­
A maximum of nine places are available on this course, with a minimum of six participants required for the course to run. Full payment is required to secure a place. We can take card payments over the phone – please note the cost of the day is not refundable. Once payment is received we will send an email confirming your place on the course – just let us know if you would like a place by calling 01582 833800.