MASTER CLASS:  Engraving (2020)
2020 Dates TBC
9.30am – 3.00pm
£190.00 plus materials (material costs of approximately £28.00

paid directly to your tutor on first day of course)
Students also have the option to buy their own graver and scriber: approx. £10.00 each • Cost of copper plates approx. £8.00 •  Students may also bring their own silver or copper to engrave on if they wish.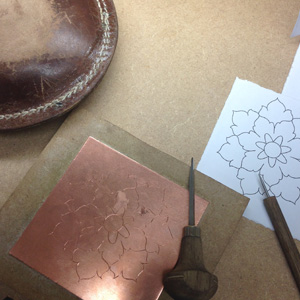 Course aims:
Learn how to compose, layout and transfer a design

Learn how to make an engraving tool and scriber
Learn basic engraving – curved and straight lines
Engrave your own design onto a copper plate
Overview of sharpening and care of tools
Learning outcomes:

Understanding of how engraving tools work
Knowledge of how to set up for engraving on your own
Be able to engrave basic cuts and designs
Your tutor:

Ruth Anthony is a hand engraver based in the jewellery quarter of London's Hatton Garden. She works in the jewellery trade undertaking all kinds of engraving on metal, jewellery and silverware ranging from lettering inscriptions to heraldic and decorative work.
Ruth studied jewellery design and manufacture. After finishing college she moved to the UK from South Africa and worked as a goldsmith at the bench making and repairing jewellery for Lawson's Goldsmiths in the Oxfordshire countryside. Wanting to add a few more strings to her bow, she took evening classes in hand engraving and enjoyed it so much she decided to re-train as an engraver and applied for a trainee apprenticeship in London where she learned traditional jewellery engraving.
In 2007 she set up her own engraving studio where she has worked ever since, taking commissions from trade customers and members of the public alike. In 2008 Ruth was awarded a QEST Scholarship to study gun-engraving techniques at Purdey and Holland & Holland and gain work experience for designer engraver Malcolm Appleby
Details:
The general outline of the course over two days will be:
Introduction, setup and demonstrations
Practice plate – learning how to cut a straight / curved line
Learning how to transfer a design
Engrave own design (students can choose from a supplied selection or bring their own)
A maximum of nine places are available on this course, with a minimum of six participants required for the course to run. Full payment is required to secure a place. We can take card payments over the phone – please note the cost of the day is not refundable. Once payment is received we will send an email confirming your place on the course.