One Day Christmas Decorations Workshop (2019)
Saturday 7th December 2019 (beginner students only)
9:30am – 3.30pm (approx.)

£160 including materials, mulled wine and mince pies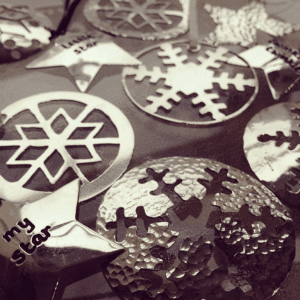 Level:
The course is aimed at beginner students only
On this one day, experiential, workshop you will construct a unique Christmas Tree decoration from Sterling Silver.
This decoration will comprise a round disk of approximately 5cm diameter, into which you will cut out a design, add texture and customise as you wish. We will supply some suggested designs, or you will be able to invent your own. Various surface textures / features can be added, ensuring your piece is truly unique!
During the making process you will explore and utilise a range of traditional jewellery and silversmithing tools and techniques, such as:
◆ Piercing with a jewellers saw
◆ Filing
◆ Drilling holes
◆ Use of a rolling mill, hole cutter and doming punch
◆ Texturing with a range of hammers and punches
◆ Silver soldering
◆ Making of jump rings
◆ A range of sanding and polishing techniques
We will also discuss and demonstrate some interesting and unusual additional techniques throughout the day (time permitting) .
The day starts at 9.30 and will finish around 3.30pm, with a half hour for lunch
Your tutor:
Clive Batkin in an expert tutor and technician, and will guide you throughout the day, giving as much help and guidance as you need.
General:­­
A maximum of nine places are available on this course, with a minimum of six participants required for the course to run. Full payment is required to secure a place. We can take card payments over the phone – please note the cost of the day is not refundable. Once payment is received we will send an email confirming your place on the course – just let us know if you would like a place by calling 01582 833800.
Return to the Master Class main page >>