MASTER CLASS: Chasing & Repoussé (2022)
2022 dates TBA
9:30am – 3.00pm
£190.00 plus materials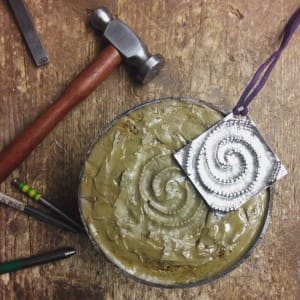 Course aims:
In this two day course, students will learn basic chasing and repoussé techniques to transform flat metal into three dimensional forms.
Learning outcomes:
Students will become familiar with techniques, tools and equipment, and will learn basic 3D sculpting theory. Students will come away from this course with the knowledge and confidence to work in copper, silver and gold.
Level:
The course is aimed at beginners.
Your tutor:
TBA.
Details:

The general outline of the course over two day swill be:
Day 1: Students will focus on familiarising themselves with tools and techniques. We will cover chasing and introduce pushing the metal into 3D with repoussé.
Day 2: Focus will be on producing a piece in relief using repoussé.
General:­­
A maximum of eight places are available on this course, with a minimum of six participants required for the course to run. Full payment is required to secure a place. We can take card payments over the phone – please note the cost of the day is not refundable. Once payment is received we will send an email confirming your place on the course – just let us know if you would like a place by calling 01582 833800.
Return to the Master Class main page >>