MASTER CLASS: Keum Boo (2020)
Saturday 5th & Sunday 6th December 2020
9:30am – 3.00pm
£190.00 plus materials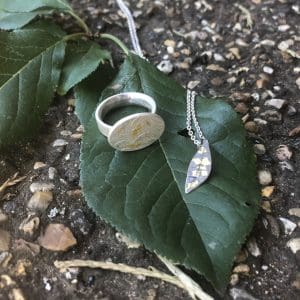 Course aims:
Keum Boo is the ancient Korean technique of permenantly fusing gold foil to the surface of silver.
Learning outcomes:
This technique provides the visual richness of gold without the physical weight and expense of working in solid gold. It is also a means to produce high contrast with patinas and textures.
Level:
The course is aimed at intermediate level students.
Your tutor:
TBA.
Details:

The general outline of the course over two day swill be:
Day 1: Students will focus on familiarising themselves with tools and techniques. We will cover chasing and introduce pushing the metal into 3D with repoussé.
Day 2: Focus will be on producing a piece in relief using repoussé.
General:­­
A maximum of nine places are available on this course, with a minimum of six participants required for the course to run. Full payment is required to secure a place. We can take card payments over the phone – please note the cost of the day is not refundable. Once payment is received we will send an email confirming your place on the course – just let us know if you would like a place by calling 01582 833800.
Return to the Master Class main page >>